Why do people get their concrete sealed?
Proper curing and sealing dustproofs the concrete and acts as a curing membrane which helps the concrete remain hydrated and reach the strength it was designed for. Some sealers enhance the colors of decorative concrete making them look more vibrant. Sealers will tend to make the concrete easier to clean, as well as more stain resistant, whether it is a spilled glass of red wine on your decorative concrete patio, or an oil spot on your motor court or driveway.
In the Pacific Northwest, concrete, by Davison Custom Concrete is the solution for the most versatile in terms of design, longest lasting and most maintenance free hardscape material available.
It's a given that your contractor must be licensed and bonded.
However, following are some other factors to consider:
First is company size. Are they so large that you are just another number to them or are they small enough that you will get personalized service? Are they so small its Bubba with his dog and pickup truck, or are they large enough to adequately staff the job? Davison Custom Concrete takes pride in the personal attention we devote to each client, and in our ability to get our jobs done efficiently.
Next, consider the value of your investment.
An installation by Davison Custom Concrete can easily last 30 years.
In addition, it's time to assess your comfort level with your contractor. Is this someone you feel can transform your designers vision into reality, and will you feel comfortable with him/her during the construction process?
Be sure to ask for references.
Finally, consider the experience of your contractor.
Have they been in business for at least 20 years? This would indicate a solid company that has experienced economic cycles before. Do they have considerable experience working on homes the caliber of yours? Have they been involved in projects that have received national recognition and have stood the test of time?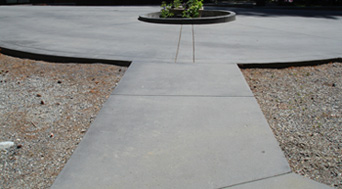 ---
"My recent experience with Davison Custom Concrete in the installation of my stamped concrete patio was excellent. Everyone involved with your company was prompt, friendly, efficient, and professional. All work was accomplished at the dates and times scheduled and I am very pleased with the finished product. This was a successful business relationship all around, and I will certainly recommend you to my neighbors and friends."
Vicki
Homeowner - Mill Creek, WA